V4® GREAT DAY RACING
V4® is a very popular bet at lunch time – day racing – and held at Swedish trotting and thoroughbred tracks. You win if you correctly pick the four winning horses.
HOW TO BET ON V4
V4 is a Pick4 and to calculate the cost of a bet simply multiply the number of horses you picked in all four legs with the minimum stake. At below example we picked five horses in first and second leg, two in third and finally a single mark last leg.
To calculate your cost:
Multiply your picks to determine the number of chosen combinations;

(example) 5 x 5 x 2 x 1 = 50 combinations;

then multiply the number of combinations with the minimum stake; which is
50 combinations x SEK 2.00 = SEK 100; or
50 combinations x 24 euro cents = € 12; or
50 combinations x 40 US/AUS cents = $20.
V4 STATISTICS
Launched in year 2006
Turnover record: SEK 3,2 million (€ 0,35 million)
Payout record: SEK 1,5 million (€ 0,16 million)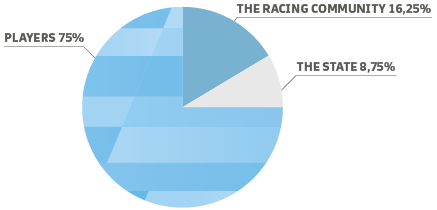 Dividend for forecasting winners in 4 races
The minimum price per combination is SEK 2.00 (€ 0.24 or $0.40)
The takeout rate is 25 %
If no one picks 4 winners, there is payout on 3 winners and so on