V86® EVERY WEDNESDAY
V86® is held every Wednesday on the racetrack Solvalla outside Stockholm, Sweden. You should pick the winning horse in eight predetermined races (legs). Consolation payouts are paid out to bettors who selected seven or six winners.
HOW TO BET ON V86
V86 is a Pick8 and to calculate the cost of a bet simply multiply the number of horses you picked in all eight legs with the minimum stake. At below example we picked five horses in leg one and two, two horses in leg three, single mark in leg four, three horses in leg five, single mark in leg six, three in leg seven and finally two horses in last leg.
To calculate your cost:
Multiply your picks to determine the number of chosen combinations;

(example) 5 x 5 x 2 x 1 x 3 x 1 x 3 x 2 = 900 combinations;

then multiply the number of combinations with the minimum stake, which is
900 combinations x SEK 0.25 = SEK 225; or
900 combinations x 3 euro cents = € 27; or
900 combinations x 5 US/AUS cents = $45.
V86 STATISTICS
Launched in year 2011
Turnover record: SEK 36,4 million (€ 4 million)
Payout record: SEK 10,9 million (€ 1,2 million)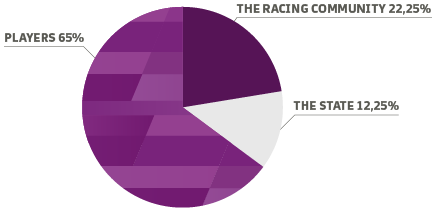 Dividend for forecasting winners in 8, 7, or 6 races
The minimum price per combination is SEK 0.25 (€ 0.03 or $0.05)
The takeout rate is 35 %
The percentage share of net pool per dividend category is 40-20-40
Jackpot if nobody picks 8 winners, or if the dividend for 6 and/or 7 winners is less than SEK 15 (€ 1.80 or $3)

jackpot money is carried over to the following event 8 correct pool